Faith In Action…
Helping Hand is an example of faith in action; of Christians coming together and actually making a concrete difference in the lives of people seeking help.
Our motto is "Because we're in this together…" and points to our shared belief that loving God also entails serving people in need… helping to lift some of their burdens… and recognizing that God has a special concern for the poor, widows and orphans. We welcome all who come to our door and have an established client policy of nondiscrimination in helping individuals seeking assistance from Helping Hand.
Helping Hand was originally begun in 1981 as a Christian counseling hotline, and has evolved over time as churches expressed a desire for a centralized, coordinated aid service to which they could refer people in need of short-term financial assistance. Helping Hand operated out of the front portion of the House of Hope in Langley from 1986 to 2016.
100% of donations go back into the South Whidbey community in the form of grants to pay rent, utilities or other financial emergencies. This is made possible because of the wonderful support from South Whidbey churches.
The following churches are either members of the founding coalition of churches and/or churches who currently support Helping Hand by providing a portion of the charity's funding (about 37% percent).
South Whidbey Churches in Alphabetical Order:
Calvary Chapel
(360) 579-2570
https://www.ccwhidbey.com
Christian Life Center
360-331-5778
www.clcwhidbey.com
Christian Science Church
360-321-4080
Island Church of Whidbey (formerly Christian and Missionary Alliance Church (CMA)
360-221-6980
www.langleycma.org
Langley United Methodist Church
360-221-4233
www.langleyumc.org
South Whidbey Assembly of God
360-221-1656
www.swag-online.org
St. Augustine's in the Woods Episcopal Church
360-331-4887
www.staugustinesepiscopalchurch.org
St. Hubert Catholic Church
360-221-5383
http://sthubertschurch.org/Church/
South Whidbey Community Church
360-221-1220
www.whidbeychurch.org
Trinity Lutheran Church
360-331-5191
www.trinitylutheranfreeland.com
Note: The Episcopal Charities Appeal of the Diocese of Olympia is also a long-time supporter of Helping Hand.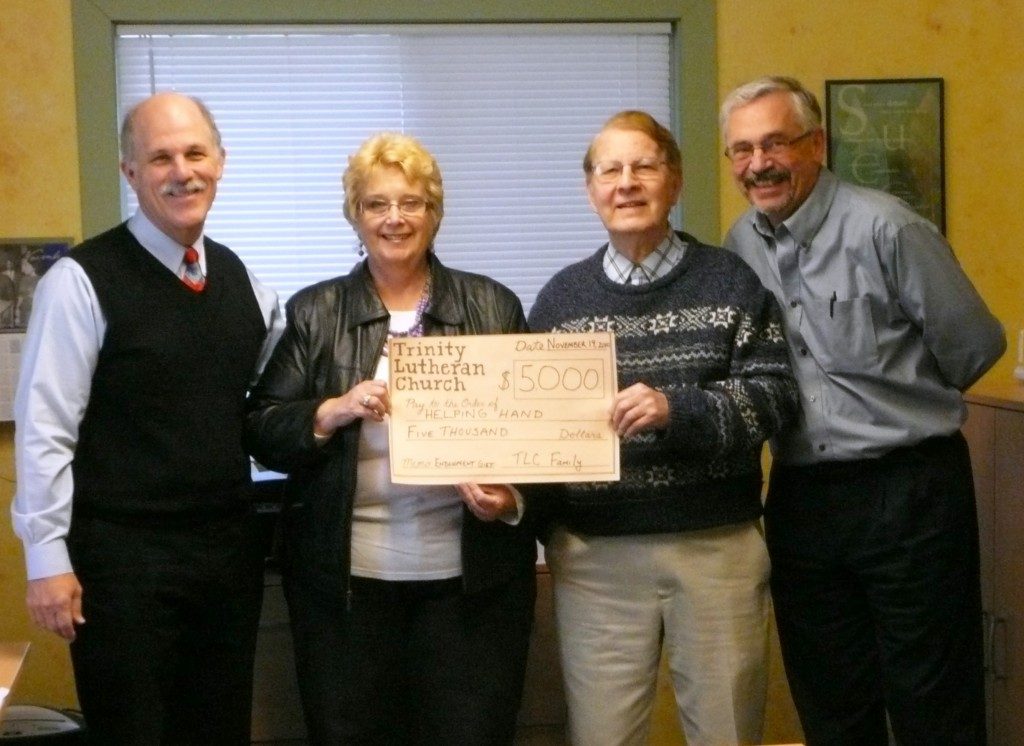 What some of the local clergy have written in support of Helping Hand:
"The outreach of Helping Hand to the marginalized of Whidbey Island is a critical piece in the overall health of our community… Helping Hand changes lives. Helping Hand provides hope for those in despair. The 1,300 people of Trinity Lutheran Church wholeheartedly recommend Helping Hand as a vital ministry serving South Whidbey Island."
Pastor Jim Lindus, Trinity Lutheran Church, Freeland
"Some of our parishioners volunteer at Helping Hand, which provides families with grants for rent, shelter, and energy needs. By serving as a central resource here on the south end of the island, Helping Hand helps the local churches accomplish this task more effectively than any one of us could on our own."
Fr. Richard Spicer, St. Hubert Roman Catholic Church, Langley
"Island County has one of the highest cost of living indexes in the state, yet we have a lower per capita income level. We frequently are asked for financial assistance by individuals, and Helping Hand of South Whidbey works with us to meet those needs. Because Helping Hand operates in such a professional but loving manner, we are able to refer people to them with confidence that they will be treated with dignity and the confidentiality they deserve."
Senior Pastor Matt Chambers, South Whidbey Assembly of God, Langley